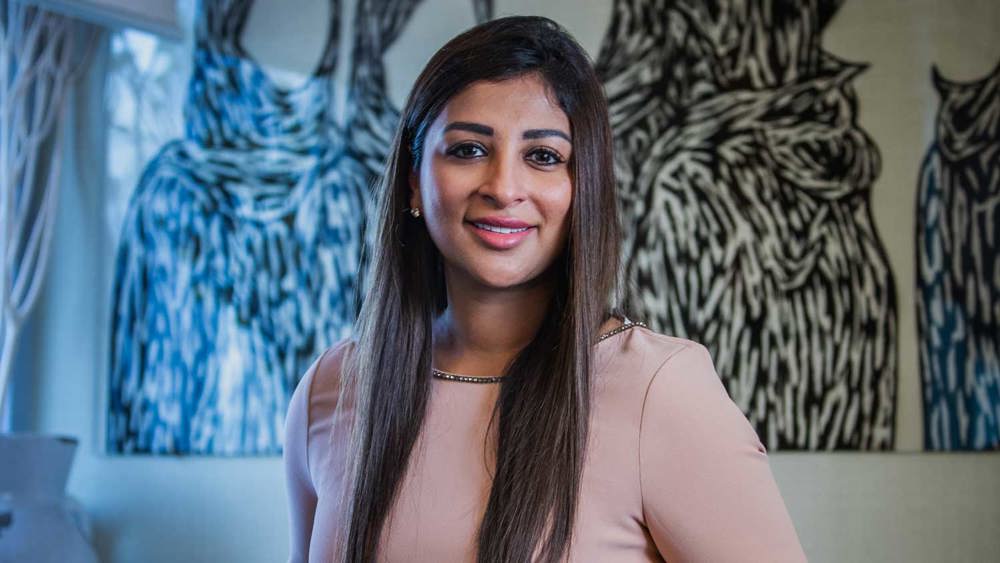 Next-gen philanthropist Alisha Moopen, shares her philanthropic philosophy, why she prioritises health projects, and the importance of partnerships.
Even when we were children and used to get pocket money, we were always nudged and encouraged to do some something charitable with it, whether it was sponsoring children, or helping in some other way.
There are a lot of people out there who want to do good work, but sometimes they only have the intention but not the platform. You need that platform so you can connect and have that credibility and for it to be easy for you to give, whether its money or time.
Each of us has a huge opportunity to impact so many lives. With the Aster Volunteers scheme, we have tried to create a platform for people to do this so they can see the impact they are having, experience that, and be able to feel good about it.
Time is so valuable. I always say to people, first dedicate your time and then you will experience the impact that you are having on the lives of the people you're touching.
I tell my kids: 'Don't expect a penny from me…  You are well educated and need to stand on your own two feet and run your own life'. If you're just letting people sit on wealth, then you're not creating the leaders of tomorrow.
For me, charity and philanthropy are about building for the future and that really starts with investing in children.
I believe every child should start out with an equal opportunity. It is important for me to help children get onto a footing where they can be independent. You can give them the fish, or you can teach them how to fish. There's only so much you can do with money; it's about developing independent human beings that can become self-sufficient.
Health is also so important. If you don't start off with the right health index, then it becomes so much harder to compete in this world. Giving people good health care is the starting point for us because it shapes so much of a person's life.
It is very important that the maximum dollar goes to the people on the ground so the impact is felt there. Administration costs should be kept to the minimum. When people give money, they are doing so with a lot of trust, it's their hard-earned money and they want it to serve people on the ground.
When we hear that world's richest 1% control almost half of the world's wealth, I mean, that's just not acceptable. We really need to move from this hoarding mentality to a distribution mentality. We need to move away from wealth creation to wealth redistribution.
Too many people still have this capitalist mentality. It's all about 'what can I do to make more for myself and my family?' But we should be asking: 'What can I do for the rest of the world, so we can all rise together?'
Collaboration and partnership are very important. It's what we need to take philanthropy to the next level and be able to scale our impact. Successful philanthropy is about being able to create a multiplier effect.
I used to have an issue talking about philanthropy and I remember speaking to my father about it.  'You are doing all this great work,' I said, 'but why do you have to shout about it?'.
He told me it was about creating a domino effect; that it was important that he, as someone to whom people looked up to in the community, could be an influence for positive change. I understand that now.
We may use different strokes on how we go about our philanthropy, but I think my principles are the same as my father's. I really agree with that whole philosophy about trying to influence change and create impact.
"We need to move away from wealth creation to wealth redistribution."
Alisha Moopen is deputy managing director of Aster DM Healthcare, a multi-country health conglomerate founded by her father, Dr Azad Moopen, who came to the Gulf from Kerala, India, in the 1980s. A Chartered Accountant from the ICAS (Institute of Chartered Accountants of Scotland), Alisha is a trustee of the Aster DM Foundation, heads up the foundation's Aster Volunteers programme, and personally supports a number of charitable causes in India and the UAE. In 2018, she was named a World Economic Forum (WEF)Young Global Leader.
*This article is an abridged version of an interview that was published on Philanthropy Age. 

Photo: Muhammad Aizazullah.