Circle members met in Abu Dhabi ahead of COP28 to discuss the role for philanthropy and private capital to fund nature-based solutions and climate-related initiatives.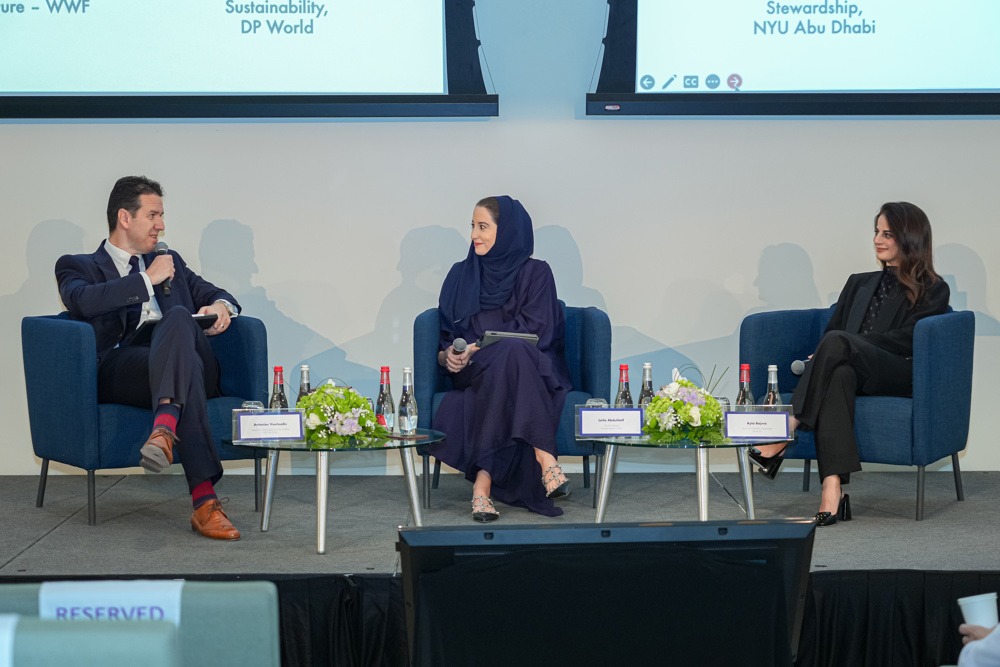 Laila Abdullatif, director general, Emirates Nature-WWF, joined Ayla Bajwa, senior vice president for sustainability at DP World, to discuss the role for philanthropy and private sector funding in developing nature-based solutions.
The conversation, hosted by Circle, at New York University Abu Dhabi (NYUAD), began with key statistics reaffirming the urgency of addressing climate change and acknowledging its increasingly profound impacts on the environment, economy and sustainable development.
"Climate change is clearly moving faster than we are and if you look at the number of climate change related natural disasters, this has more than doubled in the last decade compared to the 1980s," Abdullatif told the audience.
"It's definitely an issue that we need to take more seriously and we know that climate change also has a profound impact on nature," she added. "According to the World Economic Forum, more than half of the world's GDP is either moderately or highly dependent on nature and therefore is currently at risk due to nature loss, biodiversity loss, ecosystem degradation -- all as a result of climate change."
Nature-based solutions, sometimes called "natural climate solutions" - which involve conserving, restoring, or better managing ecosystems to remove carbon dioxide (CO2) from the atmosphere - a focus of the panel, which was moderated by Antonios Vouloudis, NYUAD's director of sustainability and stewardship.
Examples of NbS include allowing forests to regrow, restoring coastal wetlands, and switching to restorative agricultural practices, such as cover crop rotation, that support healthy soils.
In the UAE, the Emirates Nature WWF's Nature-based Solutions (NbS) for Climate, Biodiversity & People project in the UAE is funded by HSBC, and is implemented in partnership with the Minister of Climate Change and Environment (MOCCAE), the Minister of Economy (MoEc), the Environment Agency – Abu Dhabi (EAD), the Government of Umm Al Quwain, and the International Center for Biosaline Agriculture (ICBA).
The project is part of HSBC's Climate Solutions Partnership, a global philanthropic initiative in partnership with the World Resources Institute and WWF, to help scale up high-impact NbS to capture carbon dioxide and protect natural ecosystems.
"Climate change is clearly moving faster than we are."

Laila Abdullatif, director general, Emirates Nature-WWF
DP World's Bajwa, meanwhile, shared details of some of her company's projects and partnerships and explained that the firm was aiming to be carbon neutral by 2040.
Both speakers agreed creating structures to find climate-related initiatives and nature-based solutions was key. Blended finance was highlighted as having the power to catalyse climate finance towards innovative solutions with a strong potential to scale.
Philanthropic capital can de-risk investments to help them become commercially viable and attractive enough for commercial investment, the panellists said.
The panel discussion was followed by three interactive climate / finance workshops facilitated by global experts.
Aravindan Srinivasan, director of thematic collaboration at AVPN, and Jagjeet Sareen, principal co-lead of the Global Climate Practice at Dalberg, a consultancy, ran a session focused on the barriers and opportunities for climate philanthropy, sharing lessons from Asia.
Paul Ronalds, the founder and CEO of Global Ventures at Save the Children, a first-of-its kind impact investment and innovative finance platform, meanwhile discussed new models and philanthropy's role in scaling nature-based solutions.
And Suparna Mathur, Senior Advisor, NYUAD COP28 Engagement and Nancy Gleason, director at NYUAD's Hillary Ballon Center, addressed the question of how to make climate philanthropy more inclusive.
The event was put on by Circle, Pearl Initiative, and the Strategic Philanthropy Initiative (SPI) at NYUAD.