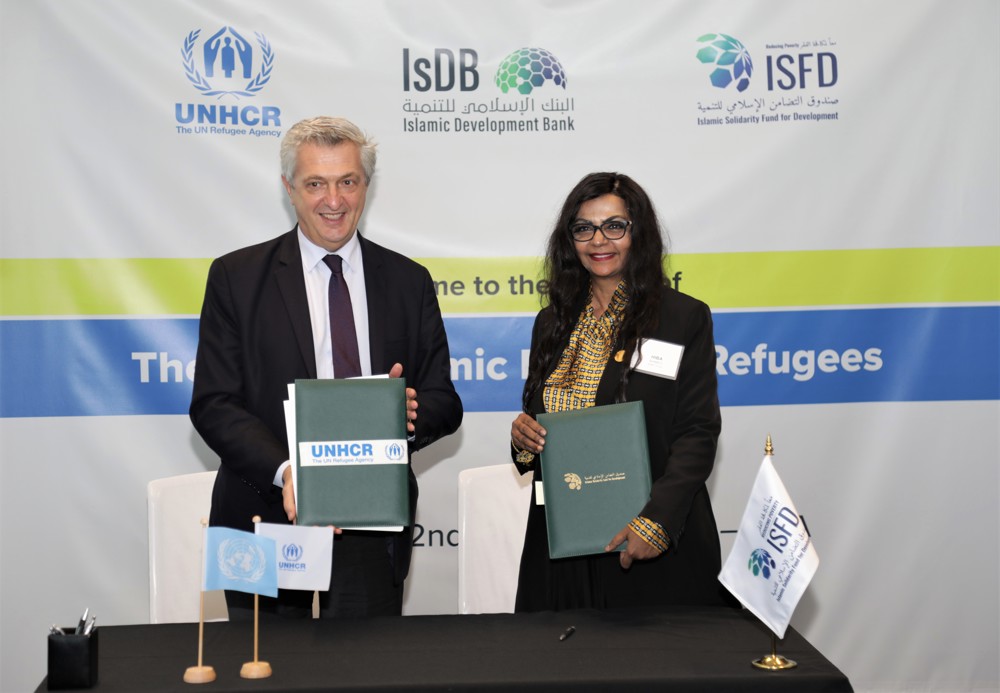 The UN refugee agency, UNHCR, has partnered with the Islamic Solidarity Fund for Development (ISFD), the humanitarian arm of the Islamic Development Bank (IsDB), to launch a new philanthropic fund to support refugees.
The launch of the Global Islamic Fund for Refugees (GIFR) comes as the number of people forcibly displaced around the world because of persecution, conflict, violence, and human rights violations has exceeded 100 million – the highest level since records began.
A fully sharia-compliant vehicle, the GIFR will comprise a Waqf fund and a non-Waqf fund, both of which will be invested according to the Islamic Finance principles with the proceeds going to finance UNHCR's programmes in areas such as education, health, and economic empowerment in IsDB member states.
Speaking at the fund's launch, on the side-lines of the 2022 UN General Assembly (UNGA) in New York, the UN High Commissioner for Refugees, Filippo Grandi, complained about "a lack of focus on real diplomacy" to address the causes of displacement.
But he said in the absence of political solutions, "by coupling the solidarity, support, steadfastness of religious organisations and individuals, along with UNHCR operational expertise, we can really and truly make a difference in the lives of millions".
Khaled Khalifa, UNHCR senior advisor and GCC representative, described the launch as "a milestone in both the humanitarian and financial sectors".
The GIFR was "an innovative financing tool", he said, that would provide sustainable funding streams for humanitarian crises". And he added: "This is particularly pertinent at a time when the world is witnessing record displacement, wars, climate shocks and protracted humanitarian situations," he added.
"By coupling the solidarity, support, steadfastness of religious organisations and individuals, along with UNHCR operational expertise, we can really and truly make a difference in the lives of millions."

Filippo Grandi, UN High Commissioner for Refugees
UNHCR and the IsDB are each investing $50m with fund managers seeking to raise an additional $400m from external donors – including governments, corporates, and private individuals.
The IsDB member states produce and host the largest number of refugees and displaced people globally.  In the Middle East and North Africa (MENA) region alone, there were 16 million forcibly displaced and stateless people recorded by UNHCR at the end of 2021, compared to 15.8 million the previous year.
"We are proud to launch the GIFR in partnership with UNHCR, which will pave the way for initiatives and efforts to assist forcibly displaced persons and host communities in IsDB member countries," said Hiba Ahmed, director general of the ISFD, at the GIFR launch event.
The GIFR offers a variety of giving modalities, including contributions that can be refunded (subject to terms and conditions and investment performance).
Donors who contribute $10 million or more will be able to join the fund's Steering Committee, through which they can contribute to the decision-making process for funding allocation.
Zakat, a pillar of Islam, requires Muslims worldwide to give 2.5 per cent of their wealth each year for the benefit of the poor. The global value of Zakat is unknown but is estimated to be anywhere from $200bn to $1trn annually.
This is not the first time the UN has sought to tap into Islamic philanthropy to raise funds for its programmes.
UNHCR launched a Refugee Zakat Fund in 2017 to encourage Muslims to donate their alms for relief work supporting refugees. Endorsed by fatwas from 15 Islamic institutions, including in Egypt, Morocco, and Saudi Arabia, the fund went online in 2019 with a mobile application to encourage easy donations.
It 2021, it raised $45m in support of UNHCR's work with refugees and displaced people and in 2020, it collected $61.5m. To-date the fund has benefitted 4.3m people in 18 countries and will continue to run in parallel with the GIFR.
UNICEF, meanwhile, launched the Global Muslim Philanthropy Fund for Children (GMPFC) in 2019. This is a partnership with the IsDB, the fund's inaugural commitment came from Emirati philanthropist Abdul Aziz Abdulla Al Ghurair, who pledged $10m to support refugee education programmes in the Levant.