Philanthropy and the SDGs
Practical tools for alignment
Using the 2030 goals to shape your giving and measure your impact
There is a growing effort among funders to focus less on and short-term change or change that is only at the project or programme level. Funders are becoming more interested in addressing root causes that can lead to more structural and systemic change.

The Sustainable Development Goals (SDGs) are inspiring foundations, individuals, and organisations across all sectors to find new ways to partner, engage employees, collaborate with governments and NGOs, and share data to multiply their impact and create more transformational progress on current challenges.  

This guide, produced by Rockefeller Philanthropy Advisors (RPA), discusses how philanthropy can align with the Sustainable Development Goals (SDGs) adopted by the United Nations.
It provides practical guidance for philanthropic funders to plan, assess, report, and act on the SDGs. It does this by outling three steps for alignment:
Plan - identify how foundation priorities align with specific SDGs and targets
Assess progress - measure progress and gather relevant data
Report and use data - prepare reports for target audiences and use data for better decision-making.
The ultimate goal is to contribute to the global effort in achieving the SDGs and addressing challenges such as poverty, hunger, climate change, and gender inequality.
Below is an abridged version of the guide, shared with permission. You can download the full guide from RPA here. An Arabic summary of the guide is forthcoming.
The 2030 Agenda
The 2030 Agenda for Sustainable Development, or 2030 Agenda, as it is more commonly known, was adopted by the United Nations in 2015.
At the heart of the agenda is a set of 17 Sustainable Development Goals (SDGs) to be achieved by the year 2030. The SDGs comprise a wide array of global concerns, covering people, prosperity, planet, peace, and partnership. The goals are universal, because they apply to all countries, and indivisible, because progress toward any one goal generally supports progress toward all of them. An important principle of the SDGs is to ensure that "no one will be left behind" on the journey to achieving the SDGs and to "reach the furthest behind first".
Each goal is broad (for example, SDG 6 is about water and sanitation). Each of the goals has a set of targets, or narrower objectives that fall under that goal (the first target under SDG 6 is to ensure universal and equitable access to safe and affordable drinking water for all), and indicators, or selected measures used to evaluate progress on the targets (for example, the proportion of population using safely managed drinking water services). Across the 17 SDGs, there are 169 targets and 230 indicators.
Many funders find that their missions and objectives align well with one or more of these goals. Others find more resonance with specific targets under a goal.
The goals are listed below. A full list of goals, targets and indicators can be found on the SDGs Knowledge Platform.
No Poverty: End poverty in all its forms everywhere
Zero Hunger: End hunger, achieve food security, and improved nutrition and promote sustainable agriculture
Good Health And Well-Being: Ensure healthy lives and promote well-being for all at all ages
Quality Education: Ensure inclusive and equitable quality education and promote lifelong learning opportunities for all
Gender Equality: Achieve gender equality and empower all women and girl
Clean Water And Sanitation: Ensure availability and sustainable management of water and sanitation for all
Affordable And Clean Energy: Ensure access to affordable, reliable, sustainable, and modern energy for all
Decent Work And Economic Health: Promote sustained, inclusive and sustainable economic growth, full and productive employment, and decent work for all
Industry, Innovation, And Infrastructure: Build resilient infrastructure, promote inclusive and sustainable industrialization, and foster innovation
Reduced Inequalities: Reduce inequality within and among countries
Sustainable Cities And Communities: Make cities and human settlements inclusive, safe, resilient, and sustainable
Responsible Consumption And Production: Ensure sustainable consumption and production patterns
Climate Action: Take urgent action to combat climate change and its impacts (Acknowledging that the United Nations Framework Convention on Climate Change is the primary international, intergovernmental forum for negotiating the global response to climate change)
Life Below Water: Conserve and sustainably use the oceans, seas and marine resources for sustainable development
Life On Land: Protect, restore and promote sustainable use of terrestrial ecosystems, sustainably manage forests, combat desertification, and halt and reverse land degradation, and halt biodiversity loss
Peace, Justice, And Strong Institutions: Promote peaceful and inclusive societies for sustainable development, provide access to justice for all and build effective, accountable, and inclusive institutions at all levels
Partnerships For The Goals: Strengthen the means of implementation and revitalize the global partnership for sustainable development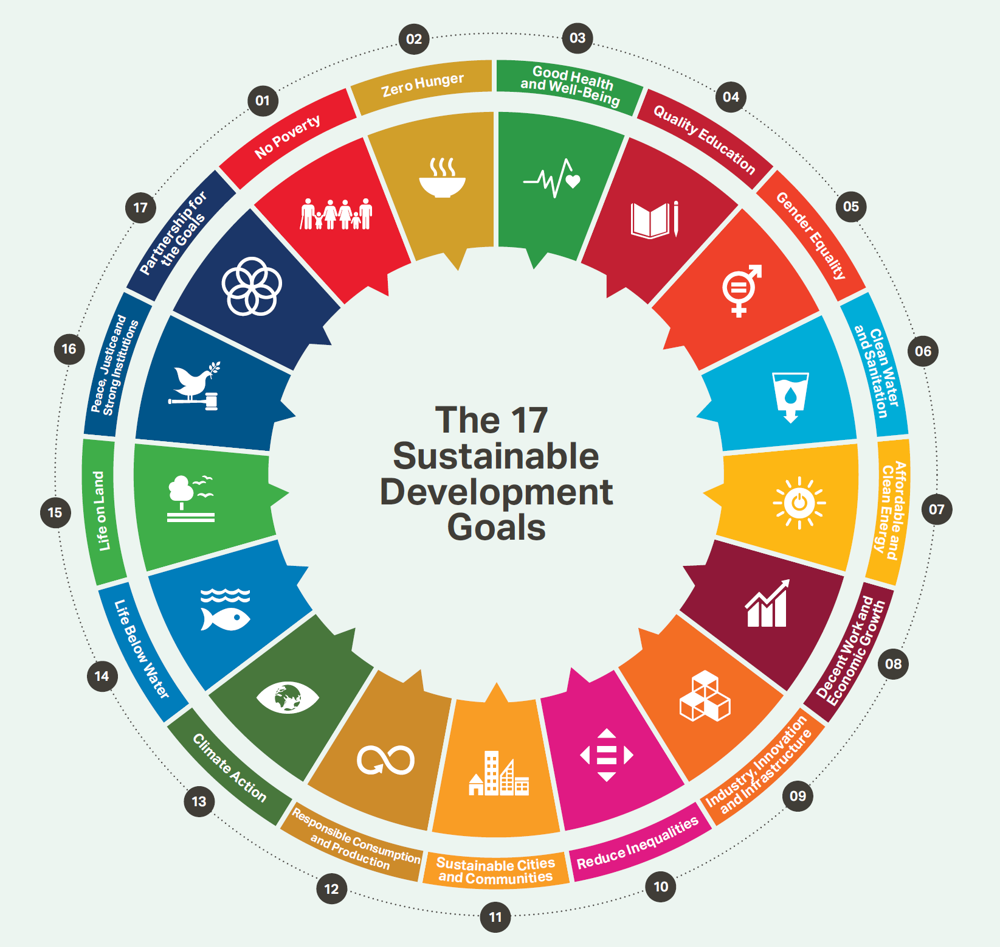 Three steps for aligning with the SDGs
Achieving the SDGs will require far more resources than are now being applied to them. Foundations can contribute to this ever-growing endeavor by changing how they make grants or how many grants they make. Some will support SDG infrastructure so that funders can collaborate better. Others will match their existing programme areas to the SDG targets, in a process called "alignment".
This guide addresses three steps for aligning with the SDGs. By collaborating with grantees and other partners throughout these three steps, the process of aligning with the SDGs can yield keener insights and greater impact.
Step 1. Plan:
Identify how your priorities as a foundation align with the SDG goals and targets. In this step, you identify how your priorities as a foundation align with the SDG goals and targets.
A. List your foundation's priority programme areas: Try to distill your foundation's priority programme areas down to their essence. List each priority programme area separately. Your priorities as a foundation, and your grantee partners' needs, will inform the entire process of planning your work on the SDGs.
B. Look through the 17 goals to find the closest matches: Choose only the single most relevant SDG for each of your priorities. You might also decide to choose an additional SDG that cuts across programmes.
C. Dive into each SDG you selected to find which targets best align your philanthropy: Use the SDG Indicator Wizard, an online tool developed by the SDG Philanthropy Platform—simply type in a sentence that describes a goal or objective you are working on, and it will give you the best match within the SDGs. Find the SDG that is most relevant to your work, click the icon for that goal, and then click the tab for "targets and indicators".
D. Consider human rights principles: When planning, it is important to consider three aspects of a human rights approach to the SDGs, as described by the Center for Economic and Social Rights. First, human rights should guide implementation of all the SDGs. Second, human rights principles of universality, interdependence, equality, participation, transparency, accountability, and using the maximum available resources should guide SDGs financing, including through philanthropic support. Third, funders have a crucial role to play in ensuring that nongovernmental organisations and affected communities can actively participate in reviewing and implementing the SDGs, particularly in situations where space for advocacy is limited.
Step 2. Assess progress:
Decide how to measure progress and results, and gather and analyse data and evidence. Having determined the most relevant SDG goals and targets, you now decide what to measure and how to gather and analyse data and evidence to know the results you are supporting, for better decisions and actions.
A. Assess the state of your monitoring and evaluation (M&E) framework: Whether you have an established M&E framework or none at all, the SDG indicators for your chosen targets may inform how you assess your work.
B. Decide on measures and what data to gather: The SDGs offer a convention and a set of targets and indicators that funders can use when measuring progress toward the goals. Work with grantees and other stakeholders to determine which measures will help you assess your contribution to selected SDG targets and what kinds of qualitative and quantitative data you will need to collect. The primary factor that will influence decisions about what data to collect is who will use it and how. Deciding on precisely which data you'll use and how helps you avoid wasting resources and becoming overwhelmed with data. Secondary factors influencing data collection include: existing data, capacity, and frequency.
C. Build capacity to collect the desired data: If you and your grantees do not already collect the desired types of data, plan how to get the information and determine whether it is primary or secondary data. This may require an additional investment. Whether a foundation is willing to make such an additional investment will inform its decision about what data to collect.
D. Collect, analyse, and synthesise data on a regular basis: Decide on how often you and your partners will collect, analyse, and synthesise data. Gather data regularly, and use it to evaluate your progress against the selected SDG targets.
E. Synthesise data, and use it for learning and action: Think of data in terms of three questions: what, so what, and now what? That is, what did we learn, what does it mean, and what do we do with it?
How data helps
Collecting and sharing data helps funders, partners, and the field:
Identify needs and gaps in funding
Establish a baseline to evaluate what progress is being made
Build trust with partners
Demonstrate philanthropy's value to international development
Determine the acupuncture points and levers most likely to create change
Discover new opportunities for collaboration
Step 3. Report and use data:
Prepare to report your findings to target audiences and use data to improve decisions and actions. Once you've gathered and analysed data, you can prepare to report your findings to your target audiences and use data to inform better decisions and actions.
The purpose of reporting is ultimately for your foundation and partners, as well as the wider world of SDG stakeholders, to increase impact and help achieve the SDGs. When reporting on the SDGs, consider that the best reporting is:
Concise and focussed only on the most relevant information
Clear in its explanations of any UN terminology or other jargon that is included
Internally consistent in format and measures
Comparable in format to that of partners and peers
Insightful in its content
A. Consider stakeholders' needs: Engage with stakeholders throughout the process of planning, collecting, and reporting on data, to understand what data they need and why. In addition to statistical data, compelling stories of impact may also be valuable.
B. Report on data through your preferred channels: Depending on your target audience(s) for reporting, you might choose any number of different channels and formats.
C. Invite feedback and iterate: No matter how you gather data and with whom you share it, your foundation can use data as a basis for discussion about how to increase your impact.
"Philanthropy and the SDGs" was written by Rockefeller Philanthropy Advisors (RPA), which accelerates philanthropy in pursuit of a just world. Continuing the Rockefeller family's legacy of thoughtful, effective philanthropy, RPA is a global nonprofit that remains at the forefront of philanthropic growth and innovation, with a diverse team of experienced grantmakers with significant depth of knowledge across the spectrum of issue areas.
Founded in 2002, RPA has grown into one of the world's largest philanthropic service organisations and has facilitated more than US$4bn in grantmaking to more than 70 countries. RPA currently advises on and manages more than $500m in annual giving by individuals, families, foundations, and corporations. RPA also serves as a fiscal sponsor for more than 100 projects, providing governance, management, and operational infrastructure to support their charitable purposes.
Download a PDF version of the original guide here. An Arabic summary of this guide is forthcoming.