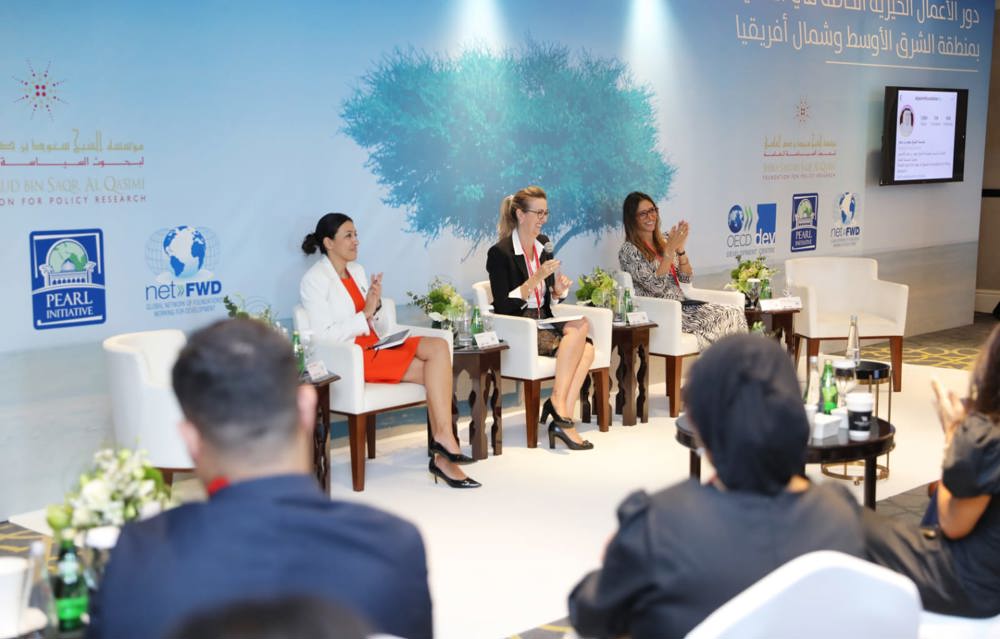 Philanthropists, experts, and policymakers discussed collaborations, data, and the role of the private sector in addressing global development challenges at an exclusive closed-door event.
Circle members and collaborators joined regional donors, foundation leads, policymakers, and international experts at a two-day symposium in Ras Al Khaimah (RAK) aimed at boosting impact within MENA's private philanthropic community.
The invitation-only event "Private Philanthropy for Development Communities in the Middle East and North Africa" was hosted by the Sheikh Saud bin Saqr Al Qasimi Foundation for Policy Research, in partnership with the Organization for Economic Co-Operation and Development (OECD) Network of Foundations Working for Development (netFWD) and the Pearl Initiative.
Giuseppe Ugazio, the Rothchild assistant professor in Behavioural Philanthropy at the University of Geneva Finance Research Institute, gave the keynote address on the uses for AI in philanthropy and development.
Other panellists and speakers included: Emirati philanthropist Badr Jafar; Huda Alkhamis Kanoo, the founder of the Abu Dhabi Music & Arts Foundation; Naila Farouky, CEO of the Arab Foundations Forum; Nermeen Abou Gazia, CEO of Egypt's Al Alfi Foundation; Yousif Al-Alousi, head of CSR, Al Handal International Group; Shainoor Khoja, founder and CEO, Thriving.ai; May Youssef, Talabat regional director of public affairs; and Nelson Amaya, policy analyst at OCED Centre on Philanthropy.
Topics discussed across the two days ranged from building stronger philanthropic communities and finding common denominators for collaboration, to creating coalitions among government and philanthropic donors. Delegates also considered the role of the private sector and how CSR can be integrated into business strategies, as well as the need for transparency and data sharing to measure and sharpen impact.
Natasha Ridge, executive director of Sheikh Saud bin Saqr Al Qasimi Foundation for Policy Research, said the October event was about "bring(ing) together leading regional philanthropic organisations in one place to explore pressing global issues".
Participants explored, she said, "the most effective forms of philanthropy in order to address the challenges in the region, and how best we can work together to support government efforts".
Bathylle Missika, head of Networks, Partnerships and Gender at the OECD Development Centre, added: "There is tremendous potential and willingness in the region to collaborate. We are excited to play our part in bringing data and trust to help build a strong philanthropic community in the MENA region."
Pearl Initiative executive director, Ranya Saadawi, meanwhile, described the event — the largest of its kind since the onset of the Covid-19 pandemic — as "a first step towards collectively moving the needle on regional philanthropic impact" to "encapsulate the core elements of strategic philanthropy" including data-driven approaches, community engagement, and robust governance.