Abdul Aziz Al Ghurair and Sheikha Bodour Al Qasimi discussed the power of strategic philanthropy at Dubai convening.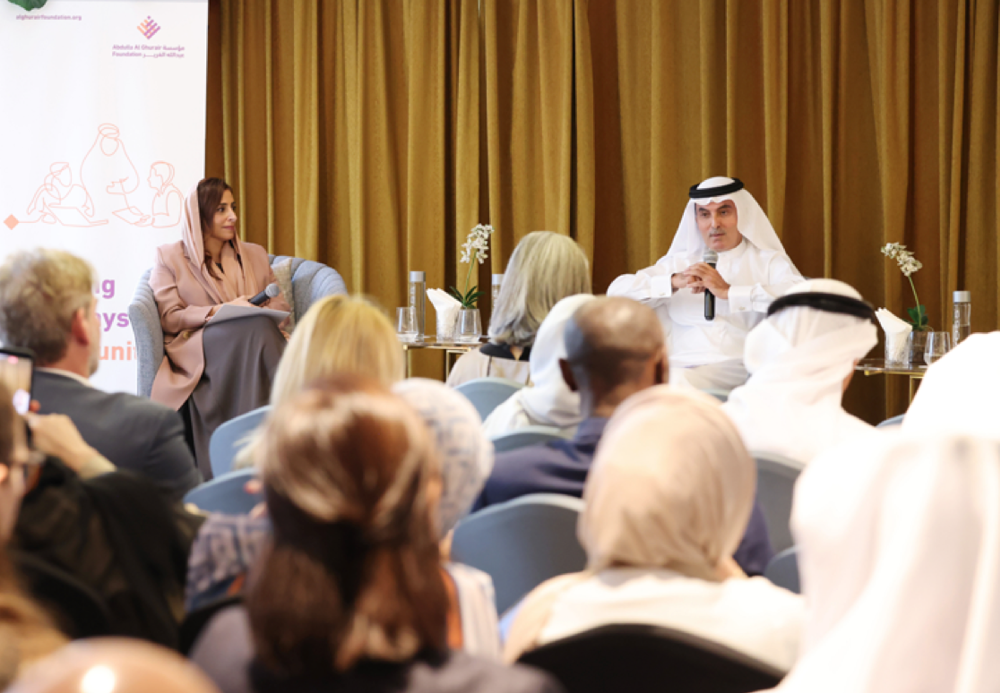 The Arab region has a strong tradition of giving, with philanthropy deeply ingrained in the social fabric and significant quantities donated by family businesses and individuals. Much of this giving falls under charity, which is generally short-term, targeting immediate relief or responding to sudden crises and disasters.
However, when channeled strategically, philanthropic resources can deliver longer-term impact and support governments in their efforts to reduce poverty, eliminate hunger, and enhance access to education.
In May 2023, the Abdulla Al Ghurair Foundation (AGF) hosted The Power of Impact Giving, in collaboration with American University of Sharjah (AUS) to reflect on ways to unlock the full potential of philanthropy and impact investing.
During a fireside chat, AGF's chair, Abdul Aziz Al Ghurair, and Sheikha Bodour Al Qasimi, the president of the American University of Sharjah (AUS), shared their visions of strategic philanthropy and discussed the potential of impact giving.
"The UAE is full of charitable organisations, and I hope to see these organisations shift gears and work for impact," said Abdul Aziz Al Ghurair, the founder of the Abdul Aziz Refugee Education Fund, an initiative giving vulnerable youth access to education. "They have the resources, the donors, and the goodwill; if we can have influence and encourage them to share their stories, ideas, and concepts, I strongly believe that it will make a difference; it will make a very big impact."
Sheikha Bodour Al Qasimi, the founder of the Kalimat Foundation, which provides books for vulnerable children including refugees, said: "When we are talking about young people's lives, future, education and meaningful impact, we need committed partners who believe in this work."
The two leaders emphasised that strategic philanthropy holds the key to maximising its impact and they made the following recommendations:
Leverage strategic partnerships. Philanthropists can cultivate successful partnerships by (1) understanding the collective goals and aligning on those goals and (2) identifying areas of synergy that both partners are passionate about.
Use the Sustainable Development Goals (SDGs) as a Framework. The SDGs can effectively serve as a framework to create a shared understanding, enabling philanthropists to guide their efforts, identify gaps, and prioritise underfunded areas that require urgent attention.
Take responsible risks. Embracing a risk-taking mindset can result in groundbreaking shifts in philanthropy as it can facilitate exploration of underdeveloped areas, and unmet needs. However, it will require careful evaluation to develop mitigation plans for unanticipated obstacles.
Start early. Initiating philanthropic endeavors early in life, even with limited resources, can have a significant impact. Al Ghurair advised aspiring philanthropists to "start small scale at your community, at your workplace, or a charity organisation where you work for impact, and gradually you will start learning how you can improve and plan better initiatives."
The event took place at the Capital Club Dubai with opening remarks by Sheikh Majid Al Qassimi, founding partner at Soma Mater and a Capital Club Government Committee Member.
You can read the full event report here.
About Kalimat Foundation
Under the leadership of Sheikha Bodour, Kalimat Foundation's 'Pledge a Library' initiative seeks to provide libraries, each containing 100 books, to promote the values of Arabic language and culture among under-resourced and forcibly displaced children. To date, the initiative has been rolled out in more than 23 countries, distributed 146 libraries, and reaching more than 100,000 Arab children.
About the Abdul Aziz Al Ghurair Refugee Education Fund
In 2018 the Abdul Aziz Al Ghurair Refugee Education Fund was launched to support refugees and vulnerable youth to access secondary, vocational, and tertiary levels of education. Since its creation, Abul Aziz Al Ghurair has personally committed over US$44m. To date, more than 62,000 refugees and vulnerable youth in Jordan, and Lebanon, as well as young people from conflict-affected countries residing in the UAE.