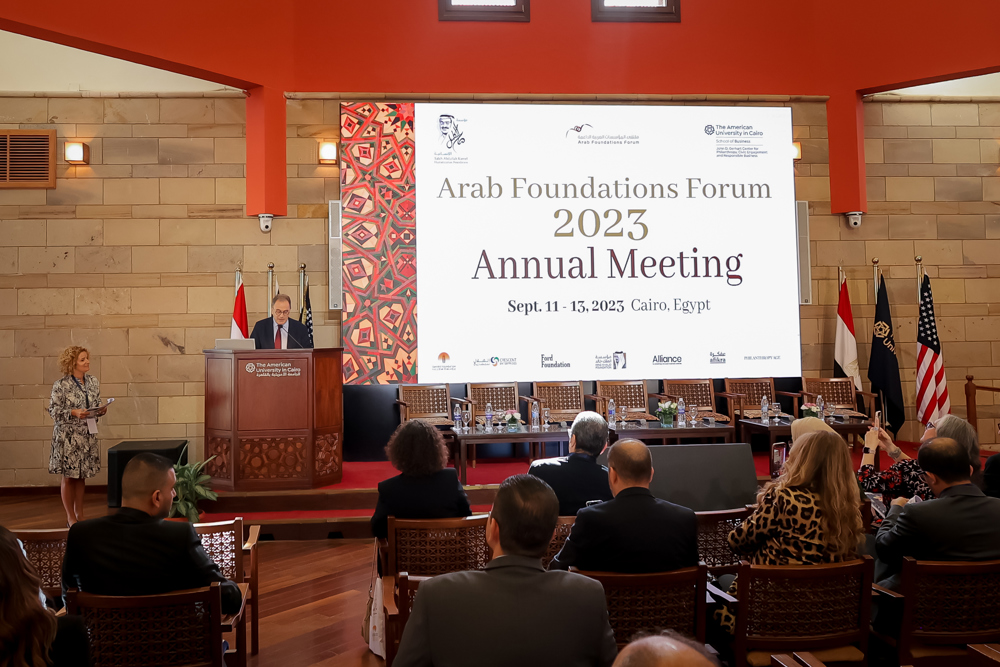 Leading figures in Arab philanthropy discuss how to amplify efforts to address regional challenges.
Over three days, leaders from the region's foundations and nonprofits, as well as local and global experts, academics, and representatives from international NGOs, discussed the challenges and opportunities for the sector and share best practice and solutions.
The event at the American University (AUC) in Cairo was AFF's first in-person meeting since 2017 and brought together some 130 delegates from 12 different countries.
"It was fantastic to have everyone together to discuss the important challenges facing our sector regionally and to look at ways we can collaborate for a better future," Naila Farouky, AFF CEO, told Philanthropy Age. "I was encouraged by the depth and focus during the meeting, and happy that we were able to host several women-led panels," she added.
Stating the importance of collaboration in a keynote speech delivered to the event via a recorded video link, Emirati philanthropist Badr Jafar said: "Many of our challenges are interconnected, so our solutions must also be interconnected through multi-step, multi-stakeholder interventions."
Jafar, the CEO of Crescent Enterprises, and the founder of Pearl Initiative, a partner with Philanthropy Age in Circle, also made the case for greater transparency with the sector.
"The more transparent we are as philanthropists, the more we can share data and evidence regarding the impact of our philanthropic work and the more trust we can build, the more impact we will have," he said, adding: "Without quality data, our networks are blind. Without evidence, philanthropists and their foundations cannot make fully informed decisions."
With the UAE hosting COP28 later this year, the theme of climate change also loomed large. Several sessions addressed the topic, its interconnectedness and impact on the region's most vulnerable communities, as well as what regional organisations were doing in this space.
Jafar, who is the COP28 Special Representative for Business and Philanthropy and will be chairing the Business and Philanthropy Climate Forum at the summit in December, said philanthropy had an important role to play in "capitalising public and private finance" to "leverage business and government capital to create a multiplier effect to unlock the trillions of dollars required for both adaptation and mitigation outcomes."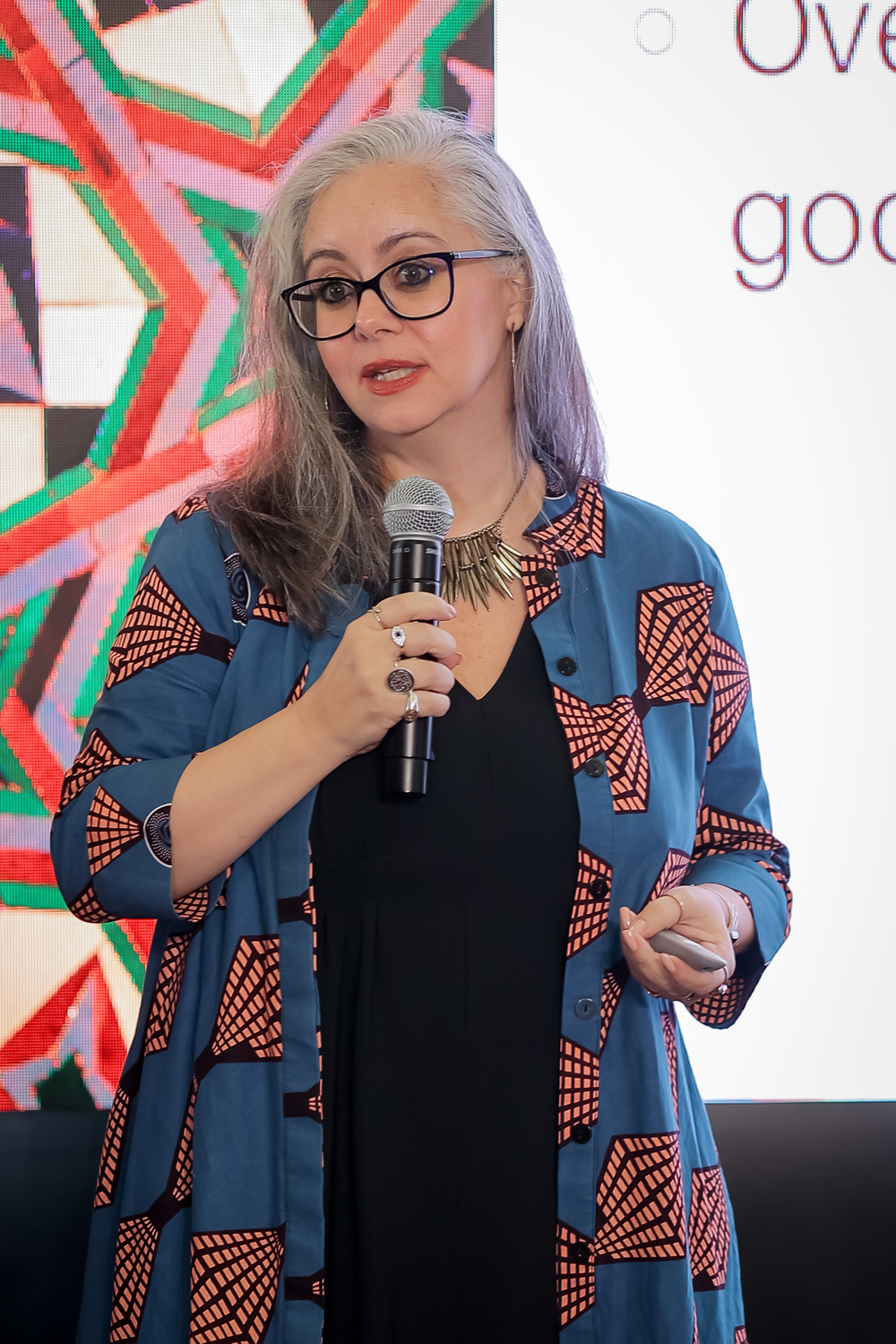 "We need to learn to get comfortable in sharing the risks as well as the rewards"

Myrna Atalla, executive director, Alfanar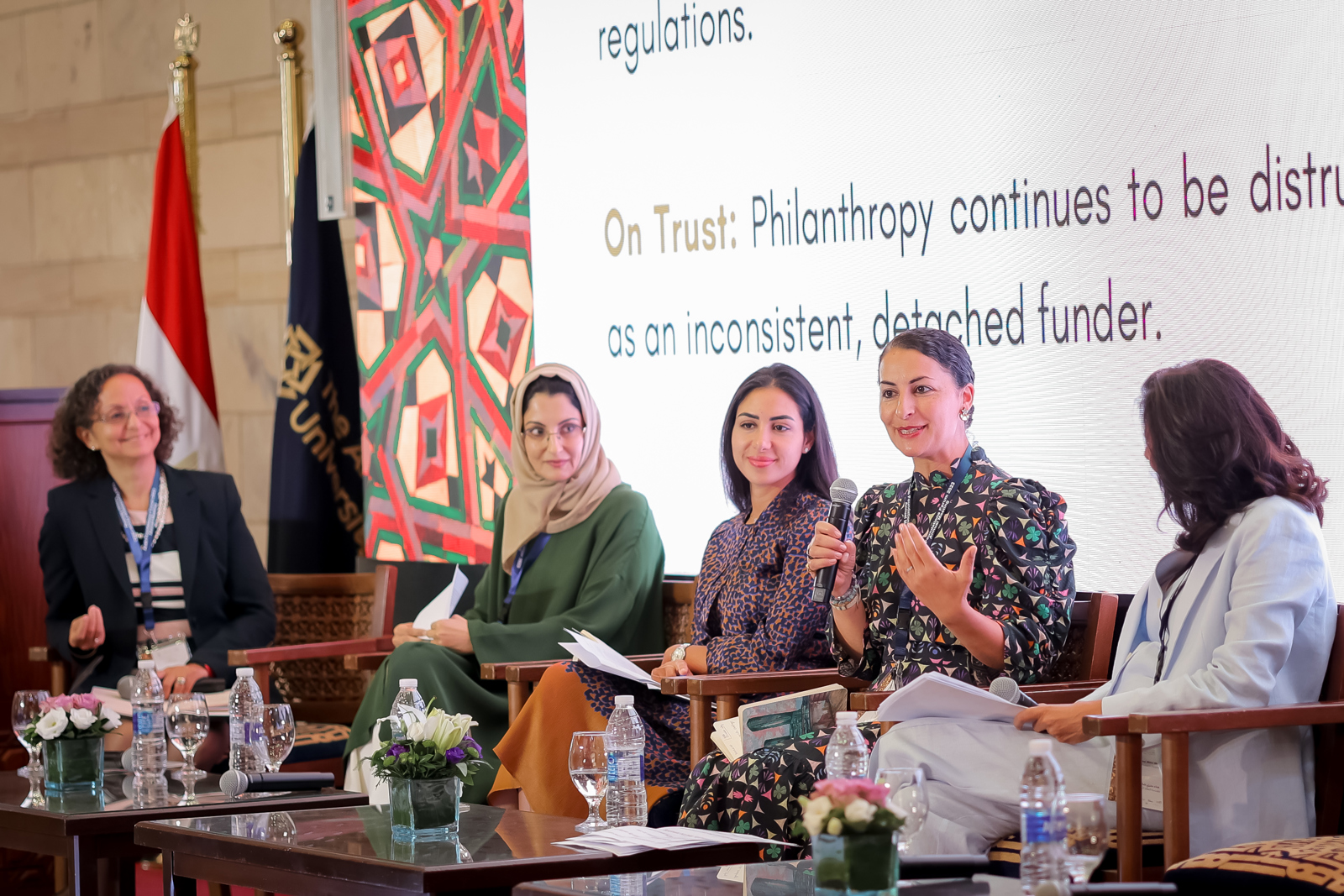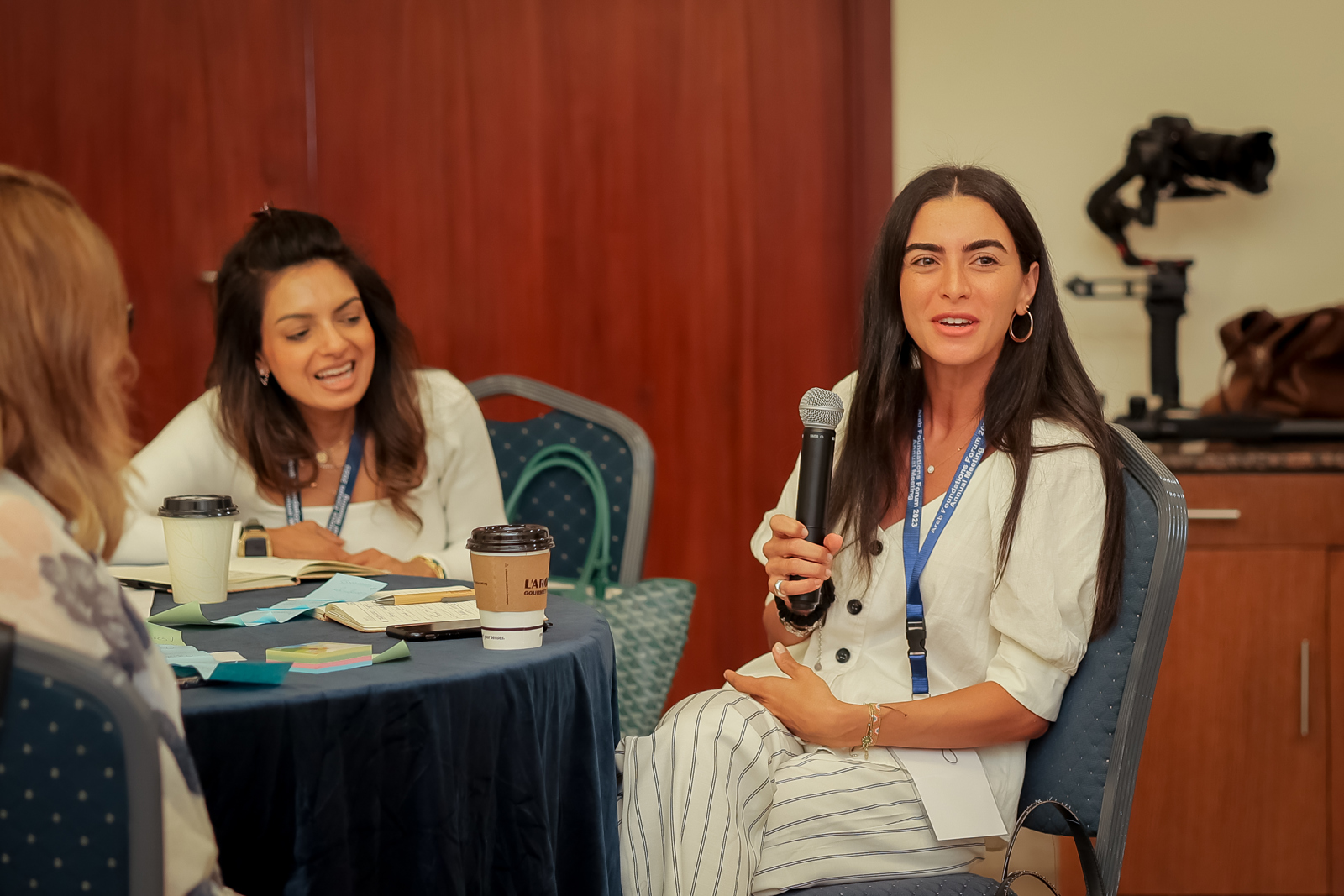 Challenges and solutions
During the AFF meeting, discussions delved into the interplay between climate change, education, and public health, with panelists offering insights into how climate change can disrupt children's education and create public health challenges.
Ban Al Mufleh, a programme officer at Dubai Cares, which is part of The Mohammed Bin Rashid Al Maktoum Global Initiatives (MBRGI), said climate resilience was at the heart of the foundation's strategy.
One example, she explained, was investing in ways to make online learning more accessible to communities hit by school closures due to weather-related incidents such as flooding.
Referring to the upcoming ReWired Summit at COP28, Al Mufleh said: "It's going to be one of the first times that education has such a prominent place in climate discussions. We hope to bring together different actors to align their committments to hopefully finance investments for the shared agenda of climate and education."
Trust-based philanthropy was also a talking point, with several speakers reflecting on the risks and rewards of this approach to grantmaking and the place for risk taking in philanthropy in general.
"Trust doesn't come without integrity and accountability," explained Reem Abdel Hamid, the regional director for philanthropy and partnerships at the WHO foundation, a grantmaking organization launched by the UN's WHO in 2020. "Trust-based philanthropy requires shifting the power dynamics in local partnerships, to invest in the capacities of local NGOs and partners and allow for co-creation and co-design," she added.
Myrna Atalla, executive director of Alfanar, MENA's first venture philanthropy organisation, said entities needed to "get comfortable in sharing the risks as well as the rewards". And Hala Al Hoshan, an advisor to the Saleh Abdullah Kamel Humanitarian Foundation, based in Saudi Arabia, added: "We need to learn to challenge the status quo and embrace taking calculated risks."
Other speakers at the meeting included: Princess Nouf bint Muhammad bin Abdullah, CEO of Saudi Arabia's King Khalid Foundation; Noura Selim, executive director of the Sawiris Foundation for Social Development in Egypt; Muna Abbas, CEO of MENA-focussed grantmaking charity, Asfari Foundation; Saba Al Mubasalat, the regional director at the Ford Foundation; and Hana Shahin, executive director of the Jordan's King Hussein Foundation.
The Arab Foundation Forum's 2023 Annual Meeting was supported by the Saleh Abdullah Kamel Humanitarian Foundation, Sawiris Foundation for Social Development, the Ford Foundation, and Crescent Enterprises, and co-convened with the AUC and the John D. Gerhart Center.

Photographs supplied by AFF.